Gothenburg, Sweden, October 30, 2018
Bluetest and Wind Tre, a top Italian mobile operator and one of the main operators in the fixed-line market, have together worked on a device test solution where the Wind Tre LTE network is connected directly to a Bluetest reverberation test system. This enables a real life, while still repeatable, test environment in which the function and performance of multi carrier MIMO LTE devices can be accurately evaluated.
The Bluetest reverberation test system is connected through a step attenuator to the RAN. The current configuration use three LTE carriers on different frequency bands with a total of 10 MIMO streams. The step attenuator is used to control the path loss to the device. The Bluetest Flow Server generates IP data traffic that is transported through the mobile network to the device enabling data throughput vs received power measurements.
The test solution can easily be expanded to support even more carriers and MIMO streams as well as the introduction of 5G NR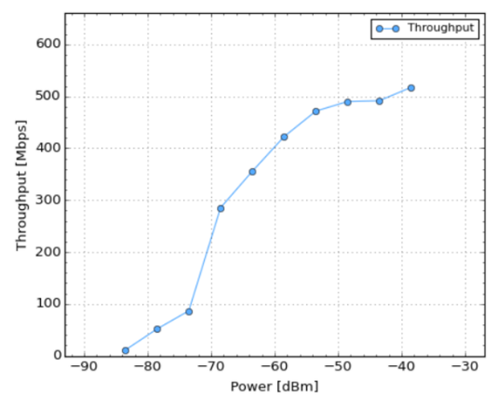 Figure 1, Example of device IP throughput measurement
"We have selected this solution in order to set up an automatic test suite and perform device test under any Carrier Aggregation combination. A reliable device performance ranking is now possible with this Reverberation Chamber/Real Node combination," says Fulvio Margherita, Head of Radio Network and Device Engineering at Wind Tre. "Bluetest" - he continues – "has provided us with valuable advice and support throughout the development process of E2E solution, which allowed optimizing the SW certification process for the devices ranged by Wind Tre."
Bluetest product manager Klas Arvidsson continues – "The cooperation with Wind Tre has given us a very good insight into the process of testing devices with a real network. We truly enjoy working with the Wind Tre team and are looking forward to a continued relationship."
About Bluetest AB
Bluetest AB is the pioneer and market leader in reverberation test system technology for over-the-air (OTA) testing of wireless devices and small antennas. Bluetest's innovative technology has been adopted by the largest mobile phone manufacturers, network operators, antenna manufacturers, and other providers of wireless solutions. For more information visit https://www.bluetest.se.
About Wind Tre
Wind Tre, led by Jeffrey Hedberg, is a top Italian mobile operator and one of the main operators in the fixed-line market. The company was created from the merger of the two operating companies H3G S.p.A and Wind Telecomunicazioni S.p.A. following the 50-50 joint-venture set up by their respective shareholders CK Hutchison and VEON. Since 7th September 2018, CK Hutchison has become the sole shareholder of Wind Tre. Wind Tre is achieving some important synergies and investing strongly in digital infrastructures. The new financial and industrial capacity allows Wind Tre to provide innovative, high quality services and faster network speeds, in line with the growing demand for connectivity and the needs of families and businesses. The company aims to become a player of reference in fixed-mobile integration and in developing new generation fibre optics networks, also thanks to the agreement with Open Fiber for the development of the ultra-broadband network in Italy. In the mobile market, Wind Tre, following network consolidation, will have 21,000 transmission sites. "Wind" and "3" are the brands used for products and offers in the Consumer segment. "Wind Tre Business" is the brand for businesses and public administration. For any further information, please visit www.windtre.it
For more information, please contact:
Klas Arvidsson
Product Manager
Email: