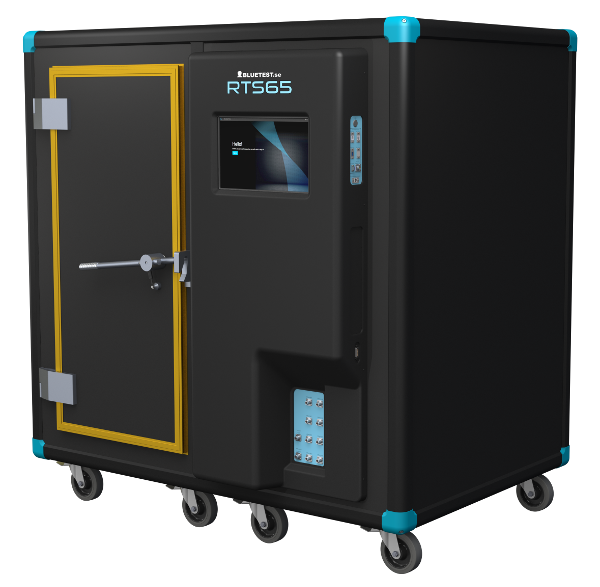 Gothenburg, Sweden, August 17th 2021
For a long time 6 GHz has been the upper frequency limit of most public communication systems. This is starting to change with the WLAN standard 802.11ax expanding into the 6.0–7.125 GHz range ("Wi-Fi 6E"). 5G is another application showing growing interest in using the frequency bands right above 6 GHz.
To meet this need, Bluetest is launching upgraded base versions of its reverberation test systems with support for Over-the-Air (OTA) measurements all the way up to 12 GHz. The upgrade applies to the popular RTS65 as well as the larger RTS85 and RTS95 chambers.
The entire frequency range up to 12 GHz is supported by one unique, in-house designed, 4-port wideband measurement antenna. Up to 16 antenna ports, all covering the full frequency range, provide for maximum configuration flexibility and simultaneous measurements on multiple MIMO carriers in various frequency bands.
Another application benefiting from the upgraded frequency range is ultra-wideband (UWB). The UWB standard has been around for a long time and uses frequencies up to 10.6 GHz. This standard has recently received increased interest from the mobile industry and is now integrated in more devices to enable new services such as interaction with automotive door locks.
The 5G FR2 frequencies ranging from 24.25–43.5 GHz are already supported by Bluetest's optional 5G packages, which provide valuable insight on the device performance in realistic operating conditions. The RTS65 system can even be equipped with a Compact Antenna Test Range (CATR) for directive measurements in the FR2 bands.
Bluetest Product Manager Klas Arvidsson says:
"Increasing the default frequency range from 6 to 12 GHz with full support for multiple 4x4 MIMO carriers means we are fully prepared for continued evolution of the WLAN and 5G standards, and shows the strength of our flexible product design."
The smaller RTS25 chamber, dedicated to Bluetooth and WLAN measurements, is also receiving a design upgrade to include the new 6.0–7.125 GHz WLAN band, in addition to the already supported 2.4 GHz and 5 GHz bands. The RTS25 is a compact and cost-effective alternative for the buzzing Bluetooth and WLAN industry.
All chambers with the extended operating frequency range are now available for order, and upgrade packages are available for already installed systems. The updated chambers are accompanied by corresponding upgrades to the line of accessories, such as reference antennas, ISS11 Attenuator System and ISS11 Instrument Switch.
---
About Bluetest
Bluetest is the pioneer and market leader in reverberation chamber technology for OTA testing of wireless devices and small antennas. Bluetest's innovative RTS system has been adopted by the largest mobile phone and antenna manufacturers, network operators, and other providers of wireless solutions. For more information visit bluetest.se.
For further information, please contact:
Klas Arvidsson
Product Manager