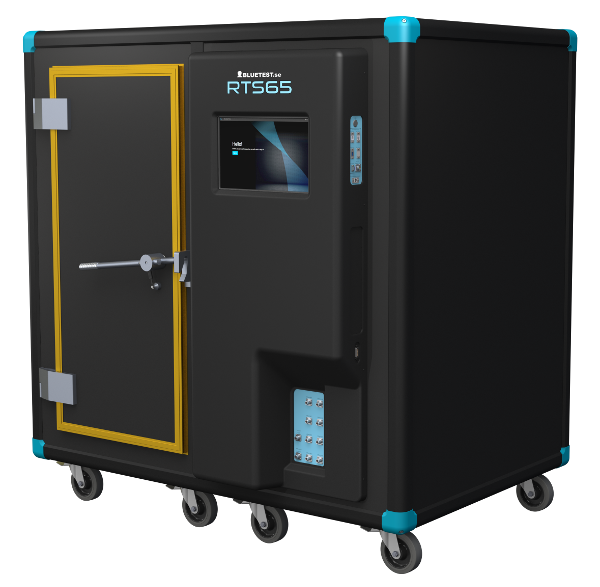 Designed to Save Time
The RTS65 reverberation chamber is designed to optimize the time you spend on OTA measurements. Our development focus has been on increasing the productivity in your lab. We want your focus to be on the results, not the test equipment. We have developed a generation of RTS chambers that is an integrated system which will give every engineer the user experience they deserve. The latest addition to the RTS65 includes up to 16 sub-12 GHz measurement ports and innovative solutions supporting 5G measurements including directive and isotropic measurements in the 28 and 39 GHz (FR2) mmWave bands.
---
Multipath Environment - inherent MIMO and multi-carrier support
The RTS65 consists of a shielded reverberation chamber with reflecting walls. The device to be tested is placed on a turntable. The reflective walls in combination with moving reflectors (mode stirrers), and the turntable, create a Rayleigh faded rich isotropic multipath environment inside the chamber. We refer to this environment as "RIMP". The multipath environment is enabled by default and moving from SISO to realistic evaluation of MIMO devices only requires a few more cables and a MIMO-enabled communication tester.
This environment is very well-suited for antenna and radio performance evaluation of modern multi-antenna (MIMO) devices such as WLAN, 4G and 5G. Bluetest's vast experience in reverberation chamber technology development has resulted in a well-proven, highly accurate and robust OTA test system.
---
Bluetest Flow – the powerful Software Platform
The RTS65 comes with the measurement and analysis software platform: Bluetest Flow.
This integrated test environment offers new levels of functionality for testing complex wireless solutions.
All measurements are executed by the built-in Flow server. There is no need to be concerned about incompatible computers, missing drivers or conflicting software that cause time consuming trouble-shooting. The server hardware has been selected to handle all possible measurement with optimal performance and all measurement results are stored in a secure on-board data base.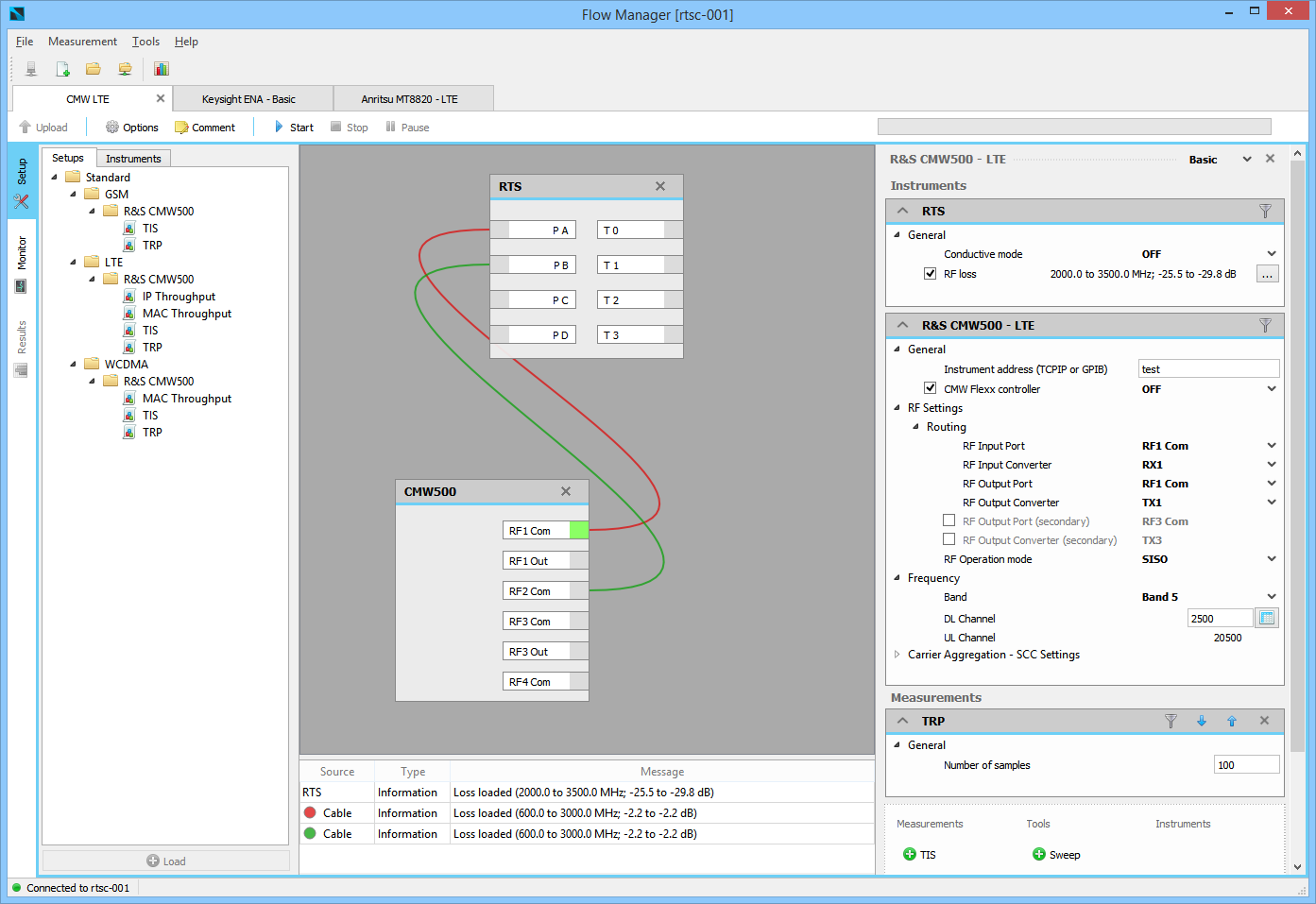 ---
Measurement configuration
Measurement configuration is done remotely with the Bluetest Flow Manager installed on any regular office PC. The intuitive graphical user interface provides in-depth measurement configuration and setup while retaining direct chamber control. The batch measurement feature enables the user to create complex measurement scenarios, varying parameters such as frequencies, modulation, wireless standard or measurement type.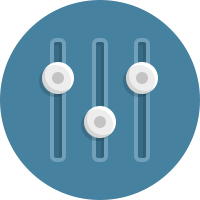 Easy to Use Touch Interface
A high resolution touch screen integrated on the RTS65 running Bluetest Flow Touch, provides easy system control as well as an interactive view into measurement progress. The user can become productive fast with only a short introduction. The Flow Touch web client is in addition to running on the built-in touch screen also available on any mobile device or PC web browser allowing you to start, stop and monitor measurements from anywhere at your convenience. Cooperate with your colleagues by supervising and managing the measurement progress from different clients. Flow Touch also gives you access to the video feed from the chamber camera and enabling/disabling of DUT communication interfaces.
Analysis and Comparison
The integrated result database together with the PC client Bluetest Flow Analyzer allows you to view and compare results. The powerful search function support data base queries based on for example measurement dates, device model, type of measurement, frequencies etc. You can easily and effectively combine results and make customized comparison plots with Flow Analyzer. Import and export to files and keep all your results in one place. Your legacy files can also be imported to Flow Analyzer and the result database so you can enjoy the new features of Flow.
---
Extending the Channel Model
Combining the multi-antenna option with a channel emulator introduce the possibility to evaluate devices in more complex radio environments with Doppler shift, different delay profiles and MIMO channel correlation. We support the most popular brands of channel emulators on the market.
Interference, Handover and De-sense
The ability to simultaneously feed multiple MIMO RAT (Radio Access Technology) standards into the chamber makes it possible to evaluate interference, de-sense and hand-over performance. Find out quickly if the WLAN and LTE radios are interfering with each other, or if the LTE carriers in a Carrier Aggregation scenario co-exist without reducing the receiver performance. Apart from testing mobile phones this method can also be used to evaluate in-car multi-media sub-assemblies simultaneously using wireless standards such as Bluetooth, WLAN and LTE.
---
Make your System Even Better - Useful Options
Test Device Interfacing for Power and Communication
Device power and communication are provided for with several various options such as AC and DC power, USB and GbE, All interfaces are easily accessed on top of the turntable. The communication interfaces use optical transport to remove risk for interference conductively leaking into the chamber.
Chamber camera
Monitor the DUT while running your measurements. The chamber camera option provides a high resolution camera inside the chamber and a snapshot or a video of the test set-up can be saved together with the measurement result. Chamber LED light is included in this option.
Chamber LED light
Light up the chamber with the RTS65 LED light option. It is a bright feature with a high-efficiency LED-light controlled via the door switch or the chamber camera.
Chamber temperature logger
Measurements can be affected by the surrounding temperature. Monitor the interior temperature of the chamber with the temperature logger. The temperature is stored together with the measurement result for later analysis.
---
Your Privacy and Integrity
We acknowledge that protection of prototypes, data, results etc. is of great importance for our customers. Therefore, we developed a secure user login with multiple access levels to keep your measurements confidential.
The communication between the Flow Client and the integrated Flow Server is encrypted (SSL). This means that no-one can eavesdrop on the communication. It is of great importance to us that you feel safe and secure when using our products.
---
Technical Specifications
Model name
RTS65
Frequency range
650 MHz – 12 GHz (43.5 GHz w. 5G option)
Shielding
>100 dB (Typ. >80 dB @ 43.5 GHz)
Power consumption
Typical 250 W
Dimensions (mm)
L 1945 x H 2000 x D 1430
Accuracy Passive measurements
0.3 dB (STD)
Accuracy TRP
0.3 dB (STD)
Accuracy TIS
0.5 dB (STD)
Repeatability
0.1 dB (STD)
Measurement antennas
650 MHz – 12 GHz: Up to 16
6–43.5 GHz: Up to 2

CATR option
Frequency range
24 GHz – 43.5 GHz
Quiet Zone Diameter
30 cm
Link loss (typ.)
28 GHz: 49 dB
39 GHz: 55 dB
Max DUT size (holder dependent)
1 kg, 24 cm longest side, 1 cm thickness
Supported communication testers
Contact Bluetest for latest status