Bluetest Flow - the powerful software platform
Bluetest Flow is the powerful software platform delivered together with RTS95, RTS85, RTS65, and RTS25. Bluetest Flow together with your RTS will not only give you the user experience every engineer deserves but also a tool to save measurement and data processing time in your lab. Focus on your results and let us make your way to them fast and uninterrupted. Start the Flow and keep going.
This integrated test environment offers new levels of functionality for testing complex wireless solutions. At the same time it builds upon years of research and development expertise put into our previous software by re-using already well proven measurement methods and algorithms.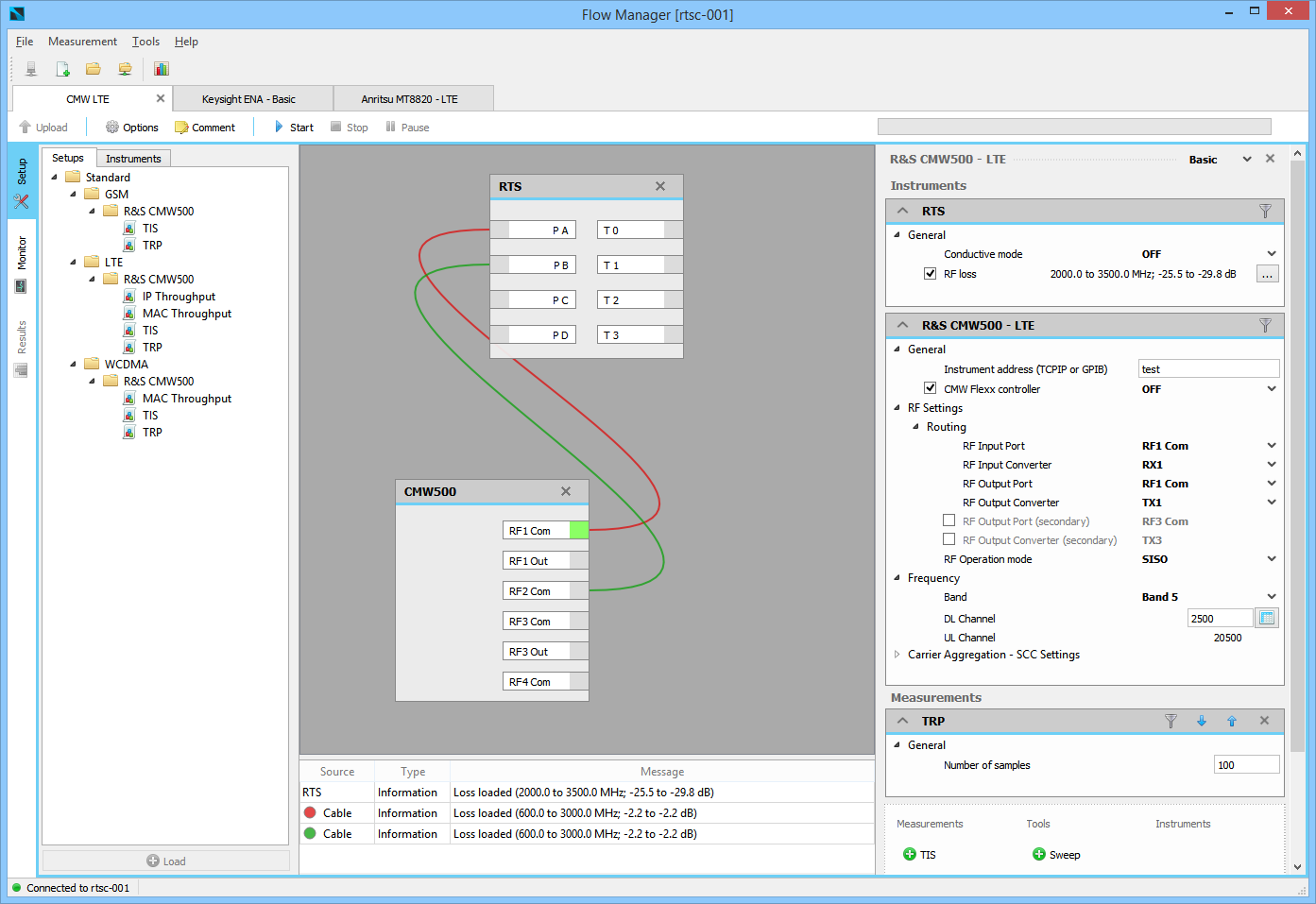 Flow Manager
Setup, configure and control your measurements
Flow Manager is designed for everyone. First time users will be guided through the measurement, power users can dig right into parameter tuning. You decide.
---
Flow Touch
Web interface for desktop, smartphones and tablets.
Be productive, even without your computer. The Flow Touch web interface can accessed from any web browser. The UI is responsive and will look great on any screen size.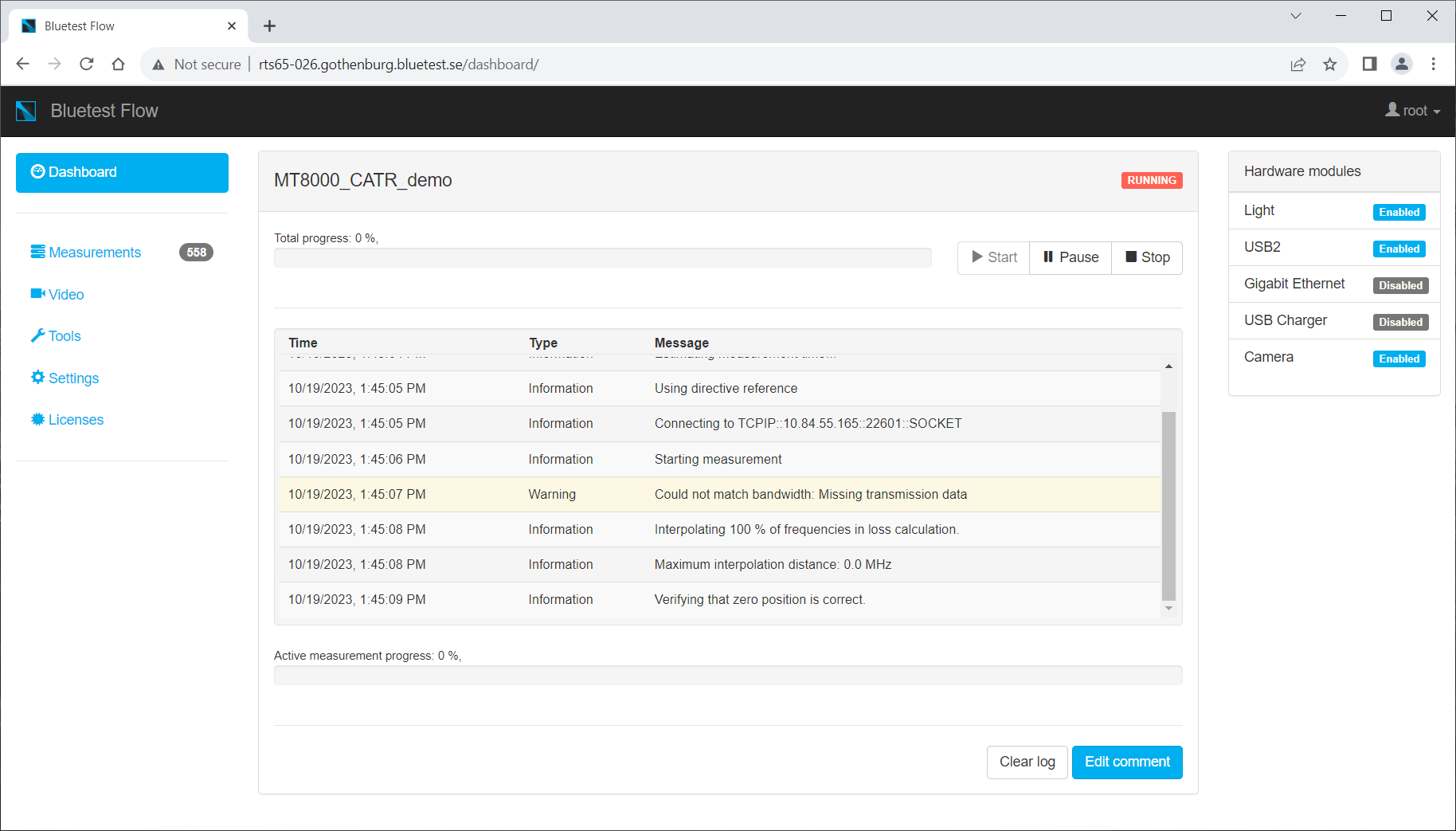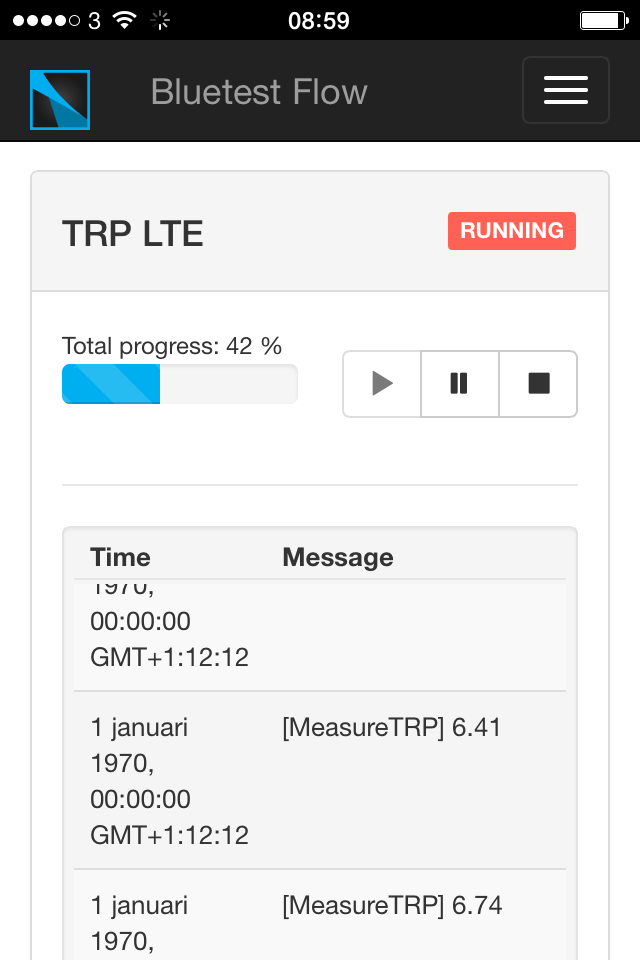 ---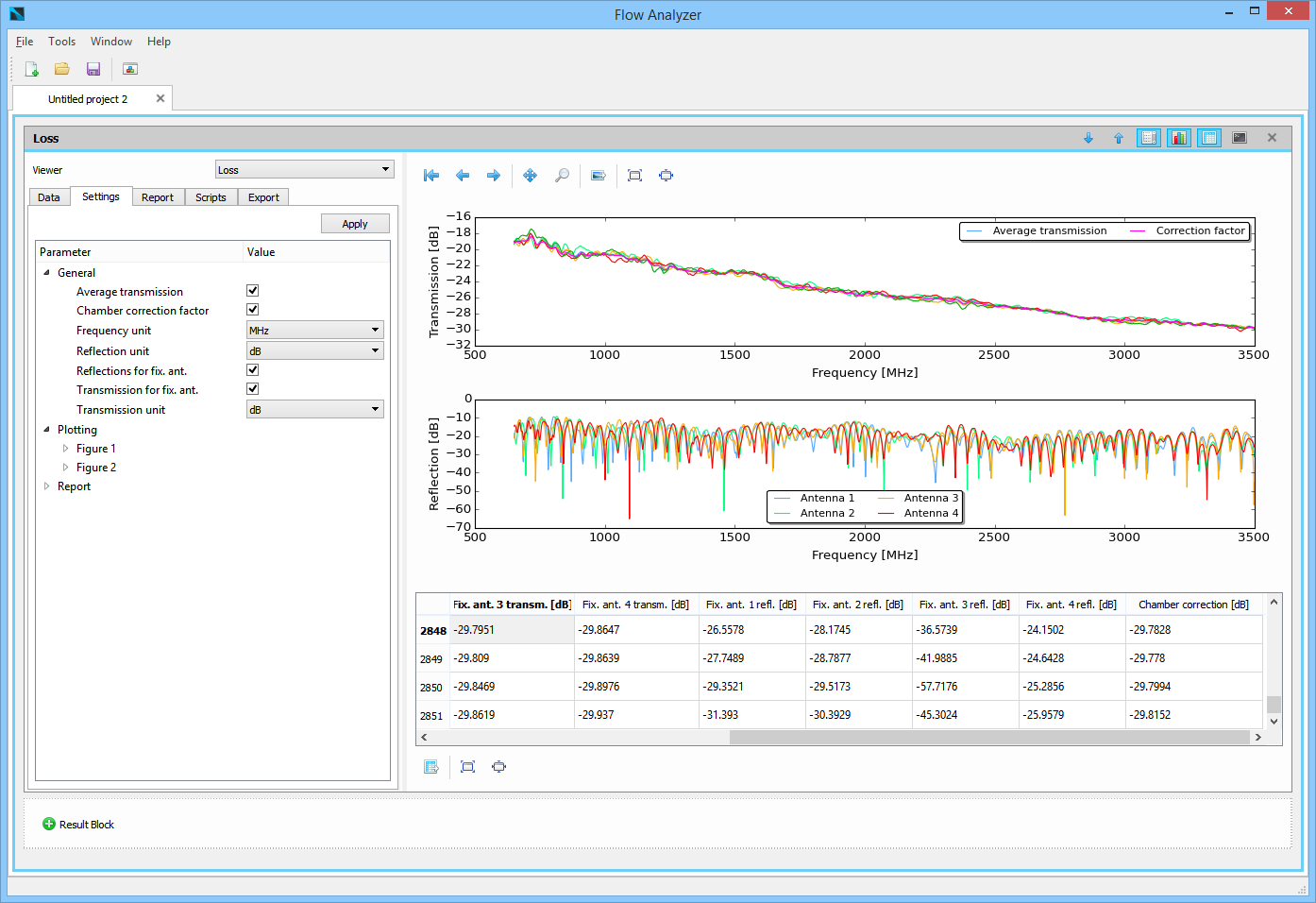 Flow Analyzer
Browse, view and analyze your results
Flow Analyzer does the hard work for you, organizing, plotting, processing and comparing. Less administration, more innovation.
---
Visual measurement setup
Same setup, both in the lab and on the screen.
The visual routing view makes it easy to overview the measurement setup. Connect your instrument, chamber, switches etc.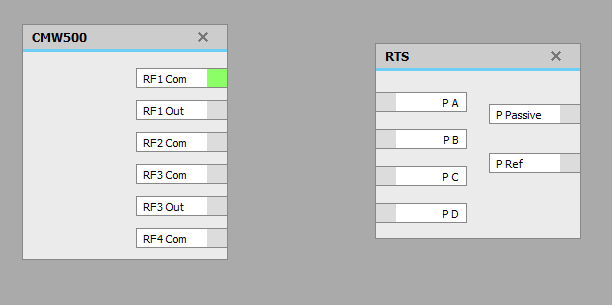 Easy and advanced
The Flow Manager gives you both.
Start out with the basic UI. If you don't find everything you need, step up to the next level.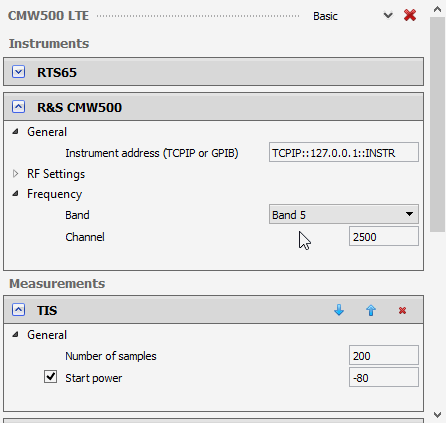 Combine and compare
One tool for all your result handling.
Collect data from different measurement campaigns. Organize, sort and select the data you want. You can then easily plot and compare the results. All from within the Flow Analyzer.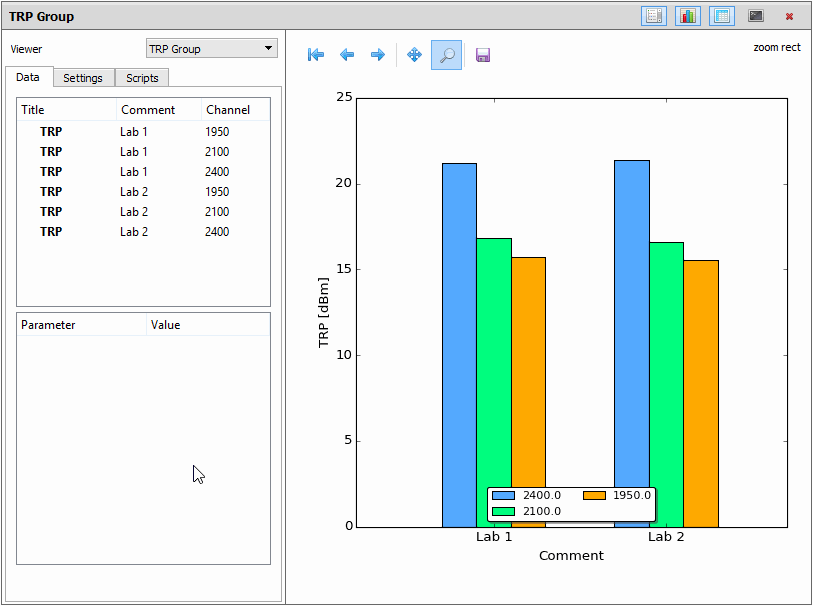 Build your own flow
Build complex measurements from simple building blocks.
Change instrument parameters from inside the measurement sequence. Create nested loops. Combine different measurement types in one sequence.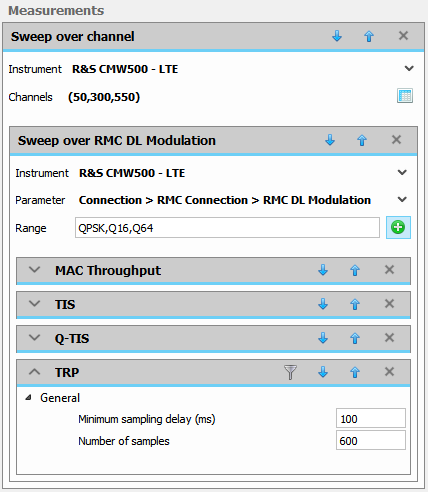 Power console
Scientific scripting is embedded right into the Flow Analyzer.
Access all data. Process data manually and plot as you like. All from within the Flow Analyzer, no need for external data manipulation tools.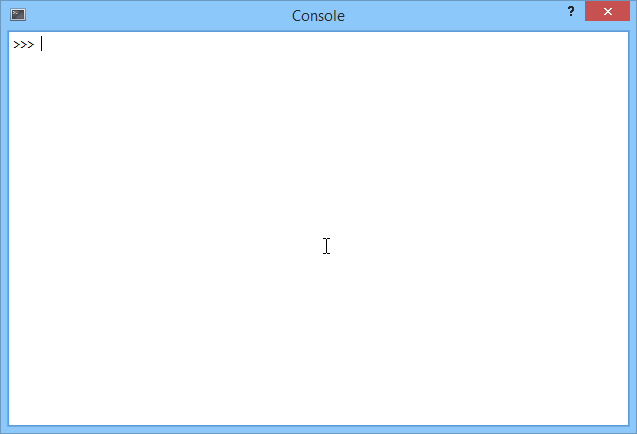 Loaded with Features
The Flow software comes loaded with features.

Plug and Play
A library of predefined setups is included, just select your measurement specification and you are done.

Easy and advanced
A simplified UI for beginners, a powerful UI for advanced users. You decide how you want to work.

Visual measurement setup
Connect instruments and cables visually, same way as in your own lab.

Interactive tutorials
It is easy to get help, interactive step by step guides are embedded right into the software.

Remote control
The Flow Manager controls the chamber remotely. Connect to you chamber from the lab, the office or even the park.

Intelligent parameters
The software is aware of ranges and dependencies of the instrument and measurement parameters.

Append metadata to results
Add tags or additional DUT information. Make it easy to find the measurement data you are looking for.

Batch measurements
Run all measurements in one go. You can mix your measurements as you want. Start the measurement and leave the system running.

View live results
View the result as the measurement is running. No post processing needed. You might not even need to finish the whole measurement.

Web interface
Don't have your computer nearby? Use any device with a web browser to access the system. The interface is responsive so any screen size will work.

Airplane mode
Need to work on the plane? Setup measurements, configure instrument and process results can all be done offline.

Powerful building blocks
Build complex measurements from simple building blocks. Change instrument parameters from inside the measurement sequence. Create nested loops. Combine different measurement types in one sequence.
---
Result Handling and Analysis
Everything you need is built in. No need for external tools.

Integrated result database
Easy and powerful search, import and export to file. Best of both worlds.

Import legacy files
Keep all results in one place. Including all results measured with your previous Bluetest systems.

Combine results
Collect data from different measurement campaigns. Make comparison plots.

Customize plots
Everything can be adjusted. The only limit is your imagination.

Build reports
Select data and export to common file formats.

Data processing
A full-fledged scientific computing environment is included. Just go nuts.
---
Security and Integrity
We have understood that protection of prototypes, data, results etc. is of great importance among our customers.

User login
Keep your measurements and results private. Create individual accounts or shared accounts, it is up to you.

Encrypted communication
All communication with the system is encrypted using industry standard SSL encryption. No one can eavesdrop on your measurements.

Digitally signed results
All results are digitally signed and the signature is embedded in the result. This makes it easy to verify origin and date, but also detect if someone has tampered with the results.

Backup system
The integrated backup functionality will keep your data safe.
---
Wireless Standards
Whether you need support for WiFi, 2G, 3G, 4G LTE or the latest 5G standards, we cover the whole range of wireless communication.
Flow Manager supports the most common communication testers and vector network analyzers for active and passive measurements. The options and combinations of standards and protocols will not limit you to get the customized system configuration you need today. Our support and service solutions provide an upgrade path for both hardware and software platforms to ensure that the capabilities of your RTS65 stay ahead of tomorrow's wireless technologies.
---
The table below shows available measurement types for different mobile communication standards.
| Standard | TRP | TIS | Q-TIS* | Throughput MAC | Throughput IP |
| --- | --- | --- | --- | --- | --- |
| GSM/GPRS/EGPRS | | | | | |
| CDMA2000/EVDO Rev. 0 and A | | | | | |
| WCDMA/HSPA/HSPA+ | | | | | |
| TD-SCDMA/TD-SCDMA HSPA | | | | | |
| LTE FDD/TDD | | | | | |
| LTE Carrier Aggregation | | | | | |
| 5G NR NSA | | | | | |
| 5G NR SA | | | | | |
| WLAN | | | | | |
| Bluetooth | | | | | |
*Time optimized TIS (Q-TIS)
Supported special measurements
Call setup/drop test
Extended channel models
Interference/De-sense